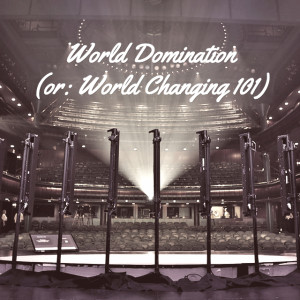 I attended the inaugural World Domination Summit last June, and it was an amazing (life changing) experience. I didn't know anyone else who was attending, and hadn't been following any blogs besides Chris Guillebeau's "Art of Nonconformity" and some of the work Leo Babauta was doing. I was in the middle of personal turmoil, changing up so many things in my life – and the thing that I remember the most clearly was this: the people I met at WDS loved and supported my story; unlike mainstream society, where people told me that I was crazy to be "giving up" a stable life and marriage, financial security, the American dream, everyone at WDS understood. In the middle of a room of 500 people who were out living unconventional lives (walking across America, traveling around the world full time, owning their own location-independent businesses, doing world changing work), I couldn't help but feel like I had finally met my tribe.
Last year taught me to listen when the universe fell into place, to dream big and to live my life with unapologetic passion. I made initial contact with people who would become friends over the coming months, who would share in some of my biggest moments during the coming year. More than anything, WDS confirmed that was okay to live life on my terms.
Come this year, I wasn't quite sure what to expect. In fact, I tried incredibly hard to keep myself from thinking too hard about how this year would be different. I didn't want to create expectations, so I mostly focused on the travel aspect – my cross country train trip to the west coast.
I just got back to the east coast, after spending 2 weeks traveling, including a few days with one thousand other world changers. I wrote most of this post on board a train on the way to San Francisco – last week I hinted at having most of this written up, and it's time to let the experience see light.
If I had to guess, it will still be a while before I can completely process the entire trip, but my initial takeaway is that this year was yet another incredible experience. It was completely different from last year, but I think that the differences are in me, as opposed to with the conference. There were lessons learned from the first year, and new challenges presented by doubling the size of the crowd, but the same level of awesome still pervaded the weekend's events.
(Side note – I decided last year that I wasn't going to take written notes, because as soon as I start writing, I cease to be present to the experience. It worked well last year and I continued the tradition this year. Everything below is from my memory of the weekend – these are my impressions and takeaways, and all mis-rememberings are my own).
To recap the entire conference would result in a post of ridiculous length (above and beyond this "pared down" version of over 1300 words…), so instead I present you with some of the things that resonated most with me:
Brene Brown opened up the speaker portion of the conference on Saturday morning – she challenged us to be open, vulnerable and uncool, allowing ourselves to fully experience life. She also coined what may very well have become the favorite response of the weekend: "suckit". And, most importantly, who can forget the rousing Glee rendition of "Don't Stop Believing"?
Hearing about Scott Harrison's work with Charity: Water was one of the most personally inspiring portions of the weekend. Being a part of the environmental and nonprofit worlds, it was amazing to hear about how the charity is functioning and to see a bit behind the curtain of an organization that's changing the rules in their industry. I came out of the session with a personal reaffirmation of the volunteer work that I am doing with Earth Week, the WeArePowerShift leadership team and 350.org. I will be giving my birthday to Charity:Water this year (taking a hiatus from my normal charity giving to local causes).
Pace and Kyelie's afternoon session on why our dreams are not enough was both fun and inspiring; they taught the group how to make our ideas sticky, about the ripple effect, and I particularly enjoyed learning about the "monkeysphere". (I'll admit that my favorite part was being able to give out monkey stickers to those with whom I had truly authentic and open conversations over the rest of the weekend – you know who you are!) Likewise, I enjoyed a session with Nathalie Lussier, who taught us why women are built to rule the world – girl power!
Grant and Adam's film, "I'm Fine, Thanks" was premiered on Saturday night at the Mission Theater, and brought an entire theater full of people to tears. Seeing Grant's story laid out on the screen – the conscious piecing together of the "perfect life" over a series of years, only to find later that it was not the right life for him – was so close to my own story that I could not stop the tears when they welled up.
Chris Brogan's opening talk on Sunday morning, about embracing your own inner superpowers and not being afraid to be your own unique self, was both hilarious and fitting – plus, he handed out superhero and supervillain cards… what's not to love?
The attendee lightning round, where a select few were chosen to talk about projects they were currently working on – my good friend Brandon kicked off the session in style, talking about his work with the documentary "Kids of the Gulf" – Adam Baker talking about his experience making the "I'm Fine, Thanks" documentary – the boob cancer song, complete with pink ukelele. In particular, I love that every person in that theater had an amazing story to tell, whether they were highlighted or not.
JD Roth's closing presentation about living an unconventional life in an ordinary world, complete with a call to action.
A few other fun events and moments throughout the weekend:
All the informal meetups starting on Thursday, and running through the weekend. It's what I love most about this experience – it's about the people!
Dancing like a totally uncool person (thanks, Brene) at Crystal Ballroom on Saturday night, completely unplanned – the motion of the dance floor under our feet – finding unexpected dancing partners and moments of pure joy. Dancing again on Sunday night at the closing party, Bollywood style.
Iron Chef dinner before the movie screening on Saturday. Rooftop dinner with friends on Sunday, watching the sun set over Portland from the roof of one of the tallest buildings in the city.
And, as you might have heard, during his closing remarks, Chris did indeed reinvest a sizable donation back to the attendees – he had an anonymous donor who covered enough of the costs of this year's event that there was a surplus, and Chris made the decision to give each of the 1,000 attendees $100 to invest in making change moving forward. It's been over a week since his investment, and I still can't find the right words to explain it… and after deleting paragraph after paragraph, I think it's time to throw in the towel.
I have plans for my investment – half is going toward a business project that's been in the works since this spring, and the other half is going to charity. I think I'll probably invest it with Kiva, through the team of folks over at the Impossible League.
This year was another amazing year for WDS – like I said before, very different for me, but mostly because I am a changed person from last year. I was delighted by the focus on doing good and making positive change that was apparent this year. We have the power to change the world, and because of a weekend in Portland, we are even better equipped to head back out into the world and do so.
Let's do this.
Image credit: Armosa Studios