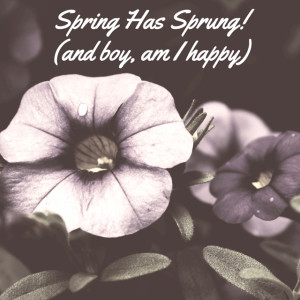 Welcome to the first official day of spring, 2012.
With weather in the upper 70s for most of the past several weeks, it feels odd that the equinox didn't happen much earlier.
It was weeks ago that I heard the first peepers, and the daffodils are reaching the end of their blooming season (crocuses disappeared last week).
Having spent months in the dull grays and browns of deep winter, my eyes aren't quite sure what to do with themselves. The riot of color that has exploded outside my door is almost too much to bear for those winter-weary orbs. The bright yellows and lush early greens are so intense that they almost hurt.
That being said, and you may be the same way, when the weather turns this beautiful I find it incredibly difficult to sit inside and work. My spirit wants to be in the sunshine, laying in the grass and taking in the warm, damp smell of springtime.
And, you know what?
Stop me if you've heard this before…
Life is too short.
Go.
Play.
Breathe in the springtime, stare at the forsythia and cherry blossoms until you just can't look any more, feel the tender spring grass in between your toes. Go for late afternoon walks, let your inner child out to play and spend an evening swinging on a swing set under the stars; do something to dust off your soul.
It's spring, and you're worth it.
I'll see you out there!
(This post brought to you by serious spring-related procrastination and an overpowering desire to take my own advice, leaving behind the mountain of work that awaits!)