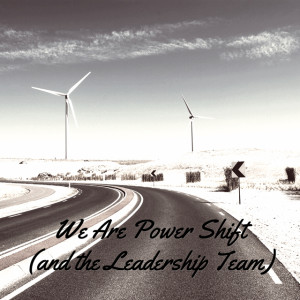 You may have noticed that I have alluded to being selected for a national Leadership Team for the We Are Power Shift online community in a couple of my previous posts. Well, this week marks the official launch of the team, and the point at which I can start sharing information about what I'm up to!
We Are Power Shift is a grassroots-driven online community that seeks to empower and serve as a hub for the youth climate movement. The site offers activists a forum for discussion and a platform to share resources, swap stories, strengthen relationships, and showcase our diverse movement to the media and the world. The community we create helps us to build political power, harness our collective energy, amplify our message and advance our vision of a clean, just and sustainable future.
The Leadership Team started meeting back at the beginning of the year, and even got together in Washington, DC last month for a long weekend of team building and brainstorming. During that time period, we have laid the foundations for the work we'll be doing, including putting together our vision of what the team is about.
We're here to make sure that the batteries are charged and the volume is turned up on our movement's megaphone. The We Are Power Shift Leadership Team supports the development of this grassroots community and ensures that the site provides the space, structure, tools, and climate (no pun intended) for the growth of our movement. We work with the community to keep the site as dynamic, agile, and engaging as this movement's leaders. By responding to the community's needs and providing resources, references, and training, we hope to catalyze activism and solidify an online foundation for future victories.
Any time I blog over at the WAP site, I'll be cross-posting here. That's not to say that you shouldn't go visit the site – you definitely should! What you'll find there are lots of great, motivated and empowered young folks who are kicking ass and taking names (environmentally speaking).
My introductory post can be found here:
http://www.wearepowershift.org/blogs/meet-jessica-can-one-person-really-make-difference
And, more about my other superstar teammates can be found here:
http://www.wearepowershift.org/leadership-team
Until next week, happy world-changing!