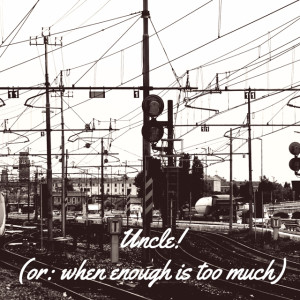 If you're anything like me, you tend to take on new, cool and exciting projects fairly often.
One at a time, they find their way to your plate. And one by one, you find time in your life for each of them. You move something here, and squish something there.
All of a sudden, you find yourself with your arm twisted behind your back. Sometimes, you just have to admit defeat. Admit that the pain is too much, that if your arm gets twisted any further, it might just pop out of its socket.
(I had a guy as a best friend when I was little, and we used to beat the crap out of each other – fighting until the other cried "uncle!" – "enough!")
It doesn't hurt so much right at this moment, but then it happens: one more project drops into view, one more thing to try to squeeze into your already packed life, one more thing that's just so awesome, so right, that you can't turn it down.
You find yourself stuck, caught at that intersection of "ouch" and "holy-crap-you're-breaking-my-arm".
What do you do?
Where do you find the balance between the stuff you want to do and the stuff you have to do?
Do you push through the pain, and take on just one more thing?
Do you clear some of the other, not so perfect projects, say goodbye to them?
And, what if all the perfect projects aren't paying your rent? Do you settle for paying the rent with crappy work, or do you scrape by on passion projects?
More than anything, it comes down to what's right for you.
At this moment in your life, what do you want to be doing? What is your hell yes?
And, if for some reason you can't pay your rent with your hell yes right this moment, how can you point yourself in the right direction?
That's where I'm sitting today – and if I'm telling the truth, it's actually where I've been sitting since the beginning of this year. I'd be a big, fat liar if I told you I had all the answers, had it all figured out.
Is there anyone who really does have it all figured out? I would like to think that life is all about finding our answers, finding ourselves.
If you need to find me this evening, I'll be out there in the world, finding my answers.