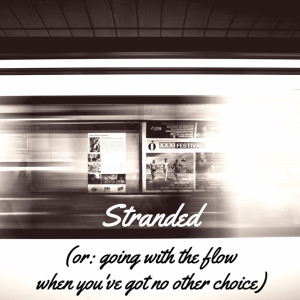 For the past several days, I've had the Aerosmith song "Amazing" stuck in my head. Well, to clarify, I've had a single line of the song stuck, which has resulted in the rest of the song bouncing around inside my skull.
Life's a journey, not a destination – and I can't tell just what tomorrow will bring."
I left Charlottesville last Friday, a sunny, hot (99 degrees and a heat index above 106 degrees) day on a train that was running less than 30 minutes behind schedule. We had to go slower than normal due to heat restrictions, and were running several hours late by the time we hit the West Virginia line.
I was relaxed in my seat, reading the book I brought along for the trip, not worried about the delay – I wasn't leaving Chicago until Sunday afternoon, so my schedule was pretty darn flexible. As the evening progressed, I noticed dark storm clouds up ahead. I thought it would be pretty cool to experience a nice solid thunderstorm from a train – it's not like airplanes, where weather can cause delays, reroutings and cancellations, right?
Right?
As the storm whipped by overhead, I realized that I might have underestimated the power of the dark clouds above. For a short time, I was even a little concerned that mother nature might have conjured up a tornado, just to make things extra fun. At around 8:00 pm, straight line winds blew through the valley, tossing tree limbs through the sky like tiny specs of fluff. The train had stopped completely because high wind warnings had been issued, and they were concerned about getting derailed by the wind.
(I learned later that the storm had produced wind gusts up to and above 80 mph, and the type of storm was a derecho.)
As darkness fell and the worst of the storm passed we started to move forward again, this time even more slowly, so that the conductor could see any detritus in the track ahead. As we rolled along, huge chunks of tree scraped along the side of the train, bumping and grinding down the cars. We left the Hinton station just before the storm hit, and it took us four hours to reach the next station at Prince, WV. I fell into a fitful sleep across two seats sometime around midnight, expecting that by the time I woke up, we would be moving again.
Dawn broke, and through heavy dry eyelids I peered out to see how much progress we had made. Looking around the train, and then looking out station-side, I saw that there were people out and about, despite the early hour. I pulled my shoes back on and walked forward through the train until I reached the open door. Hopping out, I went to find out what was going on.
Already-long story short, we sat at that railway station in Prince, WV for 20 hours waiting to continue on our journey. The storm had torn up trees and power lines, depositing them on the tracks for miles and miles ahead of and behind us; it had washed out roads, took out power to most of the state (and beyond), and caused a "state of emergency" to be declared in multiple states (including Virginia and West Virginia).
At 8:00 pm the next night, buses finally arrived – they took us to a rest stop in Kentucky where we boarded a second set of buses that eventually took everyone to their final destinations – most of us on board bus 63 were bound for Chicago, with a few others headed to stops prior. We arrived at Chicago Union Station around 10:00 am (central time), around 24 hours late, which left just enough time for me to head to the hostel, take a shower and walk back to Union Station to catch my 2:00 pm train to Portland.
*Sigh of relief*
Side note: apparently, 232 passengers stranded in the middle of West Virginia is a big enough story to make national news.
Now that I've laid out the background, let me explain more why I decided to share this particular experience here:
Note: I wrote this post on Monday afternoon, aboard the westbound Empire Builder, and it is now being posted from a hotel room in Seattle after another thwarted attempt at reaching Portland. The past few days provided some amazing social commentary for me, and put to the test some of the key tenants of my current life.
1. Life's a journey.
This one's pretty self explanatory – I planned on arriving in Chicago with over 24 hours to explore the city, but Chicago wasn't my destination. I was just passing through. In fact, even though I'm stopping in Portland for a week, it's not my destination. San Francisco after that? Nope. Charlottesville once this particular trip has concluded? Not so much. Seattle wasn't even in the plan, until a split second midnight decision when I found out that there had been a derailment on the tracks headed to Portland – and yet here I am.
It's all about the journey. It's about what we're experiencing at this very moment – there is only now. I'm not guaranteed to even make it to Portland (though it's the plan) and if I waste the moments I have worrying about how things aren't going to plan, then I'm wasting my life. The experience makes one heck of a story, and I'll add it to the list of life memories that have brought me inevitably to the space that I occupy at this given moment.
2. People are community oriented.
It's weird how sharing an intense experience can bond you with people who would have otherwise stayed strangers. I'm not the kind of traveler who sticks to herself – I generally connect with the people around me as I travel, sharing stories. Most of these people won't become a major part of the fabric of my life; I spend time connecting, and our paths cross for some small segment of time. After that, we move on with our respective lives. Chances are, we won't cross paths again.
But then there are those who we bond with in times of struggle. Much like my sisters with whom I bonded during our shared time in that DC metro holding cell, I forged connections with those who shared our common time aboard that stranded train. There are likely a few who I will keep in touch with moving forward, creating and weaving our own separate stories, but we will always have those threads of shared experience in common, connecting us.
3. You can learn a lot about a person by how they act in an emergency situation.
I'll admit, this part was challenging for me at several points. When you're faced with an uncertain situation, different people will handle things very differently – the more secure people are in themselves, the better they handle unexpected challenges. I kept having to remind myself that the adventure of life comes with a heaping helping of, well… adventure. Otherwise, it can get pretty boring. Everyone had different ways to handle our unexpected delay, but most handled it with compassion to the strangers around them.
I know sometimes it can sound like woowoo bullshit, but I truly believe that a person has quite a bit of control over their lives – not so much in the "what is happening" part of life, but in how you react to your circumstances. Upon realizing that there is nothing you can do to change the here and now, how do you react to it?
Taking things in stride is far easier said than done, but I have made it a point recently to try to do just that. Would I have rather spent the night in Chicago, exploring the city and eating amazing food? Duh. But did I let what could have been ruin the experience for me? No – that's the difference.
When life hands you lemons, right?
The next time life takes an unexpected turn, take a deep breath and let yourself experience it. If there's something that you can do to change the situation to be the way you want it to be – by all means, make that change! But, if the situation is totally out of your control, give yourself the freedom to experience it fully.
It may suck for a while, but I bet it will make one hell of a story. Allow yourself live your story – you'll thank yourself for it later.