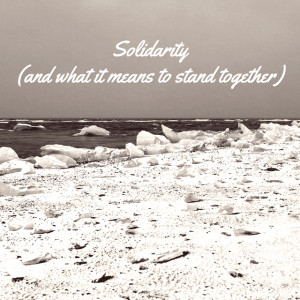 I'll admit I've been feeling the crunch recently. Being back from travels, catching up and trying to get my feet back under me has left me with quite a few full plates – if you would like a visual, close your eyes, and imagine those people at the circus who spin multiple plates around on tall sticks, balancing everything all at once – you get the idea.
And, in the midst of my personal chaos, some of the biggest climate fights in history are ramping up; I've been feeling incredibly guilty about not having feet on the ground at any of the amazing Summer of Solidarity events. It just so happens that a friend of mine reminded me that I can still be a part of the action by making sure the messages they are sending get heard. Smart guy, huh?
Over at WeArePowerShift, there have been quite a few SoS articles posted recently, talking about the actions from the perspective of those running and participating in them. I would encourage everyone to head over there and take a look – see what the younger generation is up to. (Hint: they're saving the planet.)
For starters:
Rainforest Action Network's Scott Parkin on "How Quiet Environmental Uprisings are Spreading Across the Country"
An interview that was given by a couple of team members of mine, talking about coming out of the Rio+20 Summit earlier this summer
And, links to the individual actions that are taking place across the country this summer:
Stop the Frack Attack – Washington, DC
RAMPS (Radical Action for Mountain Peoples' Survival) – Rock Creek, WV
Tar Sands Blockade – the great states of Texas & Oklahoma
Coal Export Action – the Pacific Northwest
I would encourage anyone who feels so compelled to take the time to support these actions, however that seems best for you. If nothing else, take the time to become educated about where your power comes from, and the methods by which it is produced, wherever you are.
As some dude named TJ (Thomas Jefferson, for those not in the know) once said, "An educated citizenry is a vital requisite for our survival as a free people."