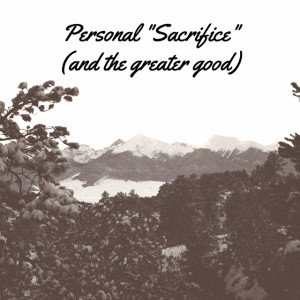 Our society tends to understand when people move up, move away and on to better things, but that understanding fades when they see someone's actions as giving up something that they have earned. We understand when someone gets excited about a new promotion, buys a bigger house, moves to a better neighborhood or a city with more opportunities – but when someone appears to go the opposite direction, most people don't understand.
Why would people decide to give up their stuff and live in a smaller house? Why would they move away from the city where they have everything and trade it for a small town? Why would people give up a cushy, stable job for the uncertainty of struggling on their own?
What is it that makes certain people turn away from the "comfortable" life to go and pursue something that benefits humanity?
the public servant – firefighters, risking their lives to save others
the adventurer – those who join an organization like the Peace Corps or Doctors Without Borders, traveling the world to make a difference in the lives of people far away
the activist – those who believe so deeply in a cause that they are willing to lay their bodies on the line to facilitate positive change
the minimalist – giving up personal belongings, detaching from "stuff" and our consumer culture
Is there a common thread that connects these people and the decisions they make?
I don't know the answers to these questions; my best guess is that every person has a unique set of circumstances and personal motivators that lead them along their path, guiding their decisions. Whatever it is, I know that I'm grateful for those who make the decision to be a positive force in the world, no matter what their path.
Musing about this brought to mind "The Road Not Taken" by Robert Frost, so I'll leave you with his words:
Two roads diverged in a yellow wood,
And sorry I could not travel both
And be one traveler, long I stood
And looked down one as far as I could
To where it bent in the undergrowth;
Then took the other, as just as fair,
And having perhaps the better claim
Because it was grassy and wanted wear,
Though as for that the passing there
Had worn them really about the same,
And both that morning equally lay
In leaves no step had trodden black.
Oh, I marked the first for another day!
Yet knowing how way leads on to way
I doubted if I should ever come back.
I shall be telling this with a sigh
Somewhere ages and ages hence:
Two roads diverged in a wood, and I,
I took the one less traveled by,
And that has made all the difference.