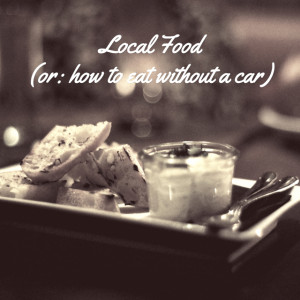 But, where do you get your groceries?
It's been one of the most common questions I've heard since I went car free back in January, and along with the awesome folks at Relay Foods, I always mention the farmers markets in and around Charlottesville. Because so many people have the impression that it's a difficult shift to make, I want to take some of the mystery out of local food – the majority of the food I eat during the growing season comes from one of these markets!
Since I don't have a car, I have two markets that I depend on, but I wanted to put together a comprehensive list of the markets that go on through the spring, summer and fall here in Central Virginia:
Charlottesville City Market – Saturdays, 7 am until 12 pm
Located between Water and South streets in downtown Charlottesville, the key to the City Market is to get there early! In order to snap up the first of the season asparagus, or raspberries, or any of the limited edition produce, it's key to get there before 9 am. The crowds start rolling in around 8 am, and by 9 or so, it's so packed that it's hard to get around. Even for someone like me who is so incredibly NOT a morning person, it's worth it to get up at dawn. Open April through December (hours and name change later in the season).
https://www.facebook.com/CharlottesvilleCityMarket
Farmers in the Park – Wednesdays, 3 pm until 7 pm
Started back when Meade Park was still mostly a park, this market is much less crowded than the Saturday market. The current layout runs against two sides of the Onesty Family Aquatic Center pool on Meade Avenue. Again, the key is getting there early – once summer sets in, it's far nicer to get produce that hasn't experienced heat shock from being out in 90+ degrees, and if you get there before rush hour, the selection is much better. There are some vendors who overlap both markets, but there are a few who don't make an appearance on Saturdays. Open May through September
https://www.facebook.com/pages/Farmers-in-the-Park/81048539935
And, the list of the other markets that are out of walking distance, but still worth making the trip if you have a car and/or live close:
Pen Park Market – Tuesdays, 3 pm until 7 pm
This market will be in its 3rd year in 2012 – and has a very similar feel to the old days of Farmers in the Park. The market takes place in Pen Park, and this growing market is much smaller than either of the two listed up above. When I lived close to Pen Park last year, this market was a weekly stop. Open May through September.
https://www.facebook.com/pages/The-Market-at-Pen-Park/379053098080
[Editor's note: sadly, the Pen Park Market is no more]
Forest Lakes Farmers Market – Tuesdays, 4 pm until 7 pm
Open April – October
https://www.facebook.com/ForestLakesFarmersMarket
Scottsville Farmers Market – Saturdays, 8:30 am until 12:30 pm
Open April – October
http://scottsvillefarmersmarket.com/
Fluvanna Farmers Market at Pleasant Grove – Tuesdays, 2 pm until 6 pm
Open April – October
https://www.facebook.com/pages/Fluvanna-Farmers-Market-Pleasant-Grove/368116841344
Earlysville Farmers Market – Thursdays, 4 pm until 7 pm
Open April through October
http://www.localharvest.org/earlysville-farmers-market-M35724
Crozet Farmers Market – Saturdays, 8 am until 12 pm
Open May through October
http://www.localharvest.org/crozet-farmers-market-M17021
Zion Crossroads Farmers Market – Fridays, 4 pm until 8 pm
Open June through October (this information may be out of date… corrections appreciated!)
http://www.localharvest.org/zion-crossroads-farmers-and-flea-market-M30419
Whole Foods Market Farmers Market – every other Tuesday ?
This used to be the case, but I was not able to find any information online about whether the new store will have the same setup as in previous years. If someone knows for sure, let me know and I'll update this!
And, finally, since putting together a list that extends past Charlottesville, Albemarle, and Fluvanna would make for a very, very long post – a great resource for finding local food wherever you are in the United States: Local Harvest.
Happy (healthy) eating!