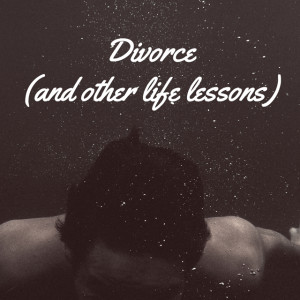 My divorce paperwork was filed this past Friday.
Another post, another set of words I never thought I would hear together in the same sentence.
Eight years ago this summer, I married the man I thought I would spend the rest of my life with. Six months ago I moved out. I won't delve into the details, out of respect for the man and the relationship. There will be no harsh words, no reflections of regret.
Instead, a small paragraph of thanks. Without him, I would not be the woman I am today. Without him, my life would be very different. He supported me and saw me through almost a third of my life, and for those years I thank him.
Why am I sharing this intimate part of my life, here in this public forum? My hope is that, in this world of 50% divorce rates and strained relationships, my story can reassure others that the end of a marriage, while still an end (and sad, to be sure), can also be a new beginning.
I think back to the day that I moved into my own apartment. It was the first time in my life that I had lived by myself; I had either lived with parents or roommates or my husband my entire life. For the first time, I had space that was completely my own. In a similar fashion, my life was suddenly my own. I had this amazing revelation:
I could do anything that I wanted to do.
My life was my own, my decisions were my own. By putting aside the sadness of the past and looking at the potential that had opened up, I was able to find my silver lining.
Has this process been difficult? Yes.
Has it been one of the saddest and most painful experiences of my life? Yes.
Have I survived (and grown) despite all of this?
Yes.
So, for anyone else out there facing large life changes or times of uncertainty and doubt, I have this reassurance. Keep putting one foot in front of the other. Trust in yourself, in your own inner strength. Out of uncertainty comes the future. You have the potential to do amazing things. Think about how boring it would be if you knew exactly what was going to happen every day for the rest of your life. To that prospect I say, no thanks!
Now, take a deep breath and take that first step.