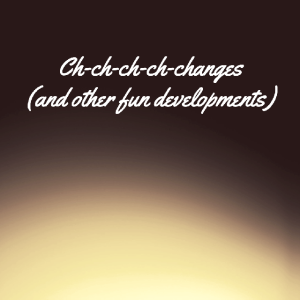 It's that time again. Another Tuesday rolls around, and with it another opportunity to reevaluate the purpose behind this blog.
Next month will mark a year of weekly posts, never a skipped week, and only on occasion of a technical error a missed Tuesday. I have written in the past about the reasons behind my decision to stick to a posting schedule, and today I'm making the decision to change my format.
Over this past year, I have participated in conversations with other bloggers, other writers – and there has never been a clear winner in the "how often is best to post" discussion… other than the fact that truly killer content wins out every time. I have come to the realization that my writing efforts are best focused elsewhere, to other projects and new ventures.
So, today I leave you with the promise that I plan to keep writing here, but I'm officially giving myself permission to step away from the weekly posting schedule. I'll be announcing a new project soon, something I've been working on since the spring, and putting together a year in review post to talk about what I've learned over the last year of blogging.
Until then, happy Tuesday, and happy changes.