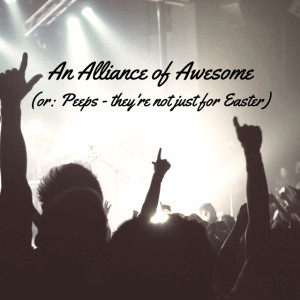 I spent the past two weekends surrounded by world-changers.
Two weekends ago, it was four 12-hour days in Washington DC with the WeArePowerShift.org leadership team.
This past weekend was three 12-to-16 hour days in Minneapolis MN with the 350.org National Leadership Summit.
I'll admit it – I'm exhausted. I'm drowning in work, overcommitted and maybe even *thisclose* to collapsing into bed for a couple of days.
And, this might sound crazy, but I'm loving every minute of it!
What makes these weekends different? Why would I push myself this hard?
It was all about the people.
While I did reference those disgusting artificially colored marshmallowy Easter candies in the blog title, what I'm really talking about is the folks who were with me these past two weekends.
Last year, I wrote a post about surrounding yourself with people doing amazing things. This week, I'm bringing that concept back to the table, because it bears repeating.
Surround yourself with the people you admire – the people who are doing the work you want to be doing – the people who are doing the seemingly impossible – the people you want to be like someday (when you grow up) – even the people who intimidate the hell out of you.
After a while, you might just find yourself being one of those people.
It's amazing what a little bit of outside influence can do.
Give it a try. And while you're at it, let me know how it goes!