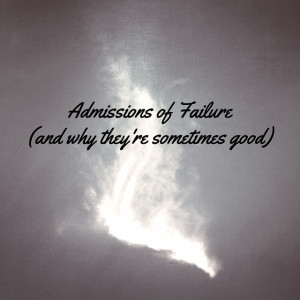 So. Maybe you remember that post I wrote a while back, about sticking to your schedule (link) and the admission of defeat if you miss a deadline? Well, here goes:
I failed! (And I'm okay with that.)
I'm hopping on a westbound train on Friday afternoon, and I have more work to be done than hours left to do it in before I leave. I'm getting ready to launch a new business venture, and have client work stacked up. Next week at this time, I'll be in Portland, Oregon, gearing up for a weekend with 1,000 other world changers – seeing old friends again, and meeting new ones.
This week, writing a post didn't take priority. In keeping with my schedule requirement, I'm openly admitting failure, and also making the realization that failure can sometimes be okay.
I'll see you next week, from the other side of the country!