Remember when summer used to be fun?
As a kid, summer loomed large as you approached the end of the school year. Three months of endless sun, long days, trips to the beach, and nonstop fun awaited.
It was the greatest time of the year. You counted down the days, waiting with barely contained excitement for the final bell to ring.
Yet somehow along the way to adulthood, you lost that joy.
Yeah, you (sometimes) take a vacation to help you unwind. But by the end of the planning, the travel, the stress, and making your way back home again… you need a vacation to recover from your vacation.
Sound familiar?
Well, I propose a shift — in the way we think, act, and set our intentions. Let's make summer fun again.
Heck, let's make life fun again!
It all starts with bringing a little playfulness back into your life. And what better way to start than on your yoga mat?
While yes – yoga is good for you, helps relieve stress, and all the other benefits it brings – you probably tend to turn your practice into a chore. Something you should do. Something to cross off your to do list.
Starting today, give yourself permission to let go of the "should". To be more playful. And to make summer (and life) more fun.
Let's look at some practices that will make your inner kid happy.
1. Hissing Breath II (Sitkari Pranayama)
Did you make animal noises when you were little? Maybe mooing like a cow. Or snorting like a piglet?
Let's channel that inner child, and play with a breathing practice where you can hiss like a snake.
This pose is really good for helping you to cool down on hot summer days. Seriously — the air constricts around the teeth as it enters the mouth, making it feel cooler to the body.
And pretending like you're a snake might make you feel silly — or even get a case of the giggles. If that's the case, you're doing it right.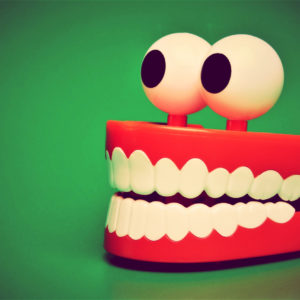 How to do it:
Release your tongue back toward the top of the mouth (out of the way of your teeth). Smile big, letting the lips come apart and the teeth meet firmly.
Inhale through the teeth, which will make the "hissing" sound referenced in the name, and exhale through the nose.
Repeat 3 times, or for as long as feels comfortable.
Health note: if you ever feel dizzy or lightheaded, stop immediately and return your breath to normal.
2. Kshepana Mudra (Letting Go Gesture)
You might recognize this mudra as the hand position from Warrior I or certain variations on standing side bends. I've heard quite a few teachers say something like "bring your hands into temple" to describe this particular gesture.
This mudra is intended to help you let go of feelings of stress or negativity, with the ultimate goal of finding a state of pure joy.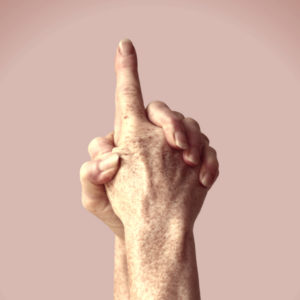 Pure joy! Can't beat that, right?
Some people even claim that using the mudra before public speaking has helped them get rid of stage fright.
How to do it:
Bring your hands together into prayer. Interlock the fingers, and then release your index fingers so they're pointing upward.
You can hold this position at chest level, or raise your arms overhead (like in Warrior I).
You can use this mudra while sitting or standing, or incorporate it into other yoga poses.
3. Playful Practice ("Playfulasana")
Yeah, yeah. So "playfulasana" isn't really a thing… but maybe it should be.
I would offer that you have the opportunity – every time you step on your mat – to bring an intention to be playful. To allow the corners of your mouth to rise as you sit in meditation. To let yourself have fun instead of taking the poses so seriously.
There are so many poses derived from nature:
Tree pose — pretend like you're a tree, swaying in the breeze. Rooting down through the standing leg, with your branches spreading wide.
Cat and cow warmup — sway your back like a cow, and maybe even chew your cud. Arch your back like a stretching cat.
Lion's pose (and lion's breath) — stick your tongue out and roar!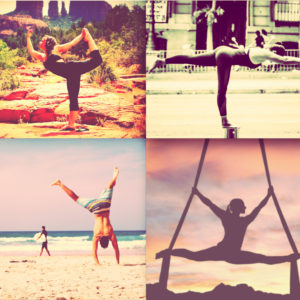 And other poses just waiting for you to channel the kid inside:
Warrior III — be superman (or woman), flying over your hometown with your cape stretched out behind you.
Happy baby — grab those feet and think what it would be like to be all roly-poly and experiencing everything for the first time.
Or grab a partner and go do some acro yoga. Or arial yoga with silks.
Whatever you do, make sure it's fun! See if you can sit your inner critic in a corner for a while, and just let your body do what it wants.
Start with poses and things you know, and then let the exploration begin.
Before you know it, your yoga practice might even be something you look forward to, instead of yet another task to complete in your already-busy day.
Go ahead… Play!
It's summer. The time of the year when the temperature gets hot and the days can be lazy and long.
How can you make the most of what's left of July and August? How can you bring more fun back into your life?
And how do you play in your life or your work — do you make separate time, or do you try to integrate both at the same time? Let me know in the comments!